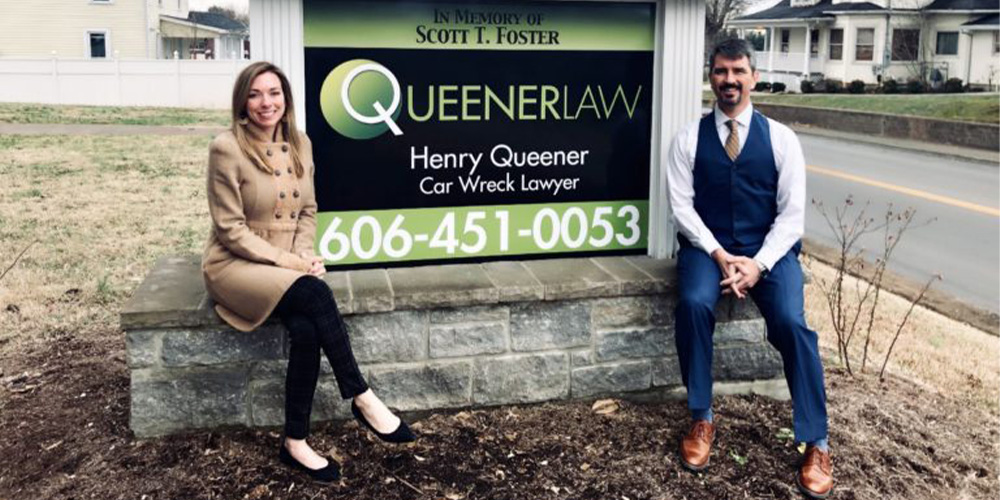 The Queener Law Team
Our Queener Law team is dedicated to continuing the legacy of Scott Foster's Personal Injury Law Practice. With nearly two decades of working together to litigate car wreck cases, Henry Queener has unsurpassed knowledge of Scott's legal maneuvers and skills learned only through years of shared experience. South Central Kentucky is fortunate to have this Nashville attorney step up and continue to provide excellent personal injury representation, all in memory of his dear friend.
Together, with Scott's wife Amy Foster, Henry Queener will put his skill and experience to work for you as he fights to get you maximum financial recovery so that you can focus on your physical and emotional recovery.
From Foster Law to Queener Law:
Amy Foster's world stopped on November 12, 2017 when her husband, Scott Foster, and teenage son, Noah, did not make it back from a weekend-long hunting trip. In an instant, she became a widow, a grieving mother for her only son, a solo parent responsible for caring for two little girls, and the successor to a large law practice.
Scott and Amy married young and basically "grew up" together. They dedicated the early part of their marriage to education, always striving to reach the next goal and doing "whatever it takes" to get there. Countless moves and odd jobs dotted the timeline of their 20 plus years together. They endured a few lows and many beautiful highs: the birth of their three children, building their dream home, and the success of Scott's law practice.
Scott dedicated his life to the practice of law and helping those who were in need. Amy was by his side every step of the way, through the countless working hours, the loss of sleep over cases, the disappointment in unfavorable verdicts (which Scott would say were very few), and all the aspects of running a business.
Scott's untimely passing left Amy with countless decisions to be made, including how to proceed with his passion: his law practice. Some things are just meant to be, and that is how Queener Law became an extension of what Scott created. This transition is truly where Amy's story of disappointment and desperation turns, as this decision was her saving grace and a reason to keep moving forward. The transitioning of her husband's law practice to his very dear friend became her passion.
Scott and Henry met shortly after law school when Scott began his career with an insurance defense firm in Nashville. Their friendship was invaluable as they both ventured out into private practice. They remained close, always discussing cases and brainstorming ideas for their practices on a nearly weekly basis. Over the last decade or so, Scott would travel back to Tennessee to co-counsel with Henry, litigating car wreck cases. If anyone knew Scott's passion for practicing law, his style, his legal maneuvers, it was Henry Queener.
The decision to pass the torch to Henry was an easy one. The closing of Scott's practice is one potential cumulative loss that the Foster family will NOT have to endure. Scott's practice will continue on. His legacy will remain and continue to grow.
Queener Law Today
Scott would be honored to have his friend at the helm of his law practice. Transitioning the law office has not been an easy feat, but Henry has been steadfast and committed to seeing it through. Our Queener Law team is something that Scott would be proud of.
This same commitment and integrity translates into the way he handled the remainder of Scott's cases and the new cases brought in as Queener Law Office. We have successfully blended Scott's top office staff and Henry's paralegals to create a personal injury team that is second to none.
As C.S. Lewis so poetically wrote about friendship, it "has no survival value; rather it is one of those things which give value to survival."
Friendship is one of life's greatest graces and Amy has been blessed to witness this first hand. Scott's practice will continue on as Queener Law and Amy will remain a part of this venture. Our Queener Law team will provide the same invaluable legal skill set, values, and vision all fueled by the memory of a passionate larger than life attorney.